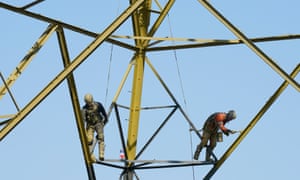 National Grid has cautioned that document low demand for power throughout Britain's coronavirus lockdown could result in windfarms and electricity plants being turned off, so as to prevent overloading the grid.
The energy system operator has prediction that that the lockdown may cut need for power 20% below normal amounts, possibly resulting in an oversupply of power occasionally.
British families are using more power than usual throughout the lockdown but general demand for electricity is much reduced since colleges , offices, restaurants and factories have been forced to close last month.
Roisin Quinn, the mind of National Grid's control area, said low need could place the network under elevated levels of anxiety. She explained: "The assumption is the reduced need makes it simpler for us to perform our task, with less electricity needed overall and consequently less strain on the system. In reality, as system operator, it's equally as important for all of us to handle lower demand for power since it is to deal with the peaks," she explained.
The mix of elevated levels of energy production and reduced demand can increase the probability of overloading energy grids and also cuts the energy system's resilience to abrupt changes in frequency — a measure of energy intensity — that may result in temporary blackouts.
The National Grid control area hopes to cover flexible windfarms — that may power down fast — to change off at short notice whilst cutting power imports via subsea wires from Europe to prevent overwhelming the power grid.
The energy system operator stated it will additionally pay hydro energy projects to behave as giant "virtual batteries" using the additional power to pump up water into lakes prior to releasing it later if electricity supplies threaten to eclipse the nation 's need.
National Grid's manager, Fintan Slye, stated that even though the scenario turned out "quite fluid" the firm was "executing numerous steps to ensure customers in the united kingdom will continue to get safe and reliable electricity supplies through those uncertain times".
Many of those measures are used previously, especially in regional networks at the north of Scotland where demand for power is frequently reduced while end power levels are greater, but those are very likely to be utilized "more often and for more than in previous summers".
On a few days that summer power demand may fall under the "baseload" output from rigid power plants, for example atomic energy reactors, which may take hours to close down safely, which means there's a danger which National Grid could be made to issue emergency orders to turn off power plants to prevent overloading the grid.
National Grid set out its predictions for summer days following power demand dropped to record highs of 15.2GW within the Easter weekend, sharply below its forecast lows of 17.6GW for this summer as a result of gentle, sunny weather.
"We understand that huge numbers of individuals rely on us daily to keep the lights and we wish to reassure everyone that we don't anticipate the functioning of the power system to be negatively impacted," Quinn said.